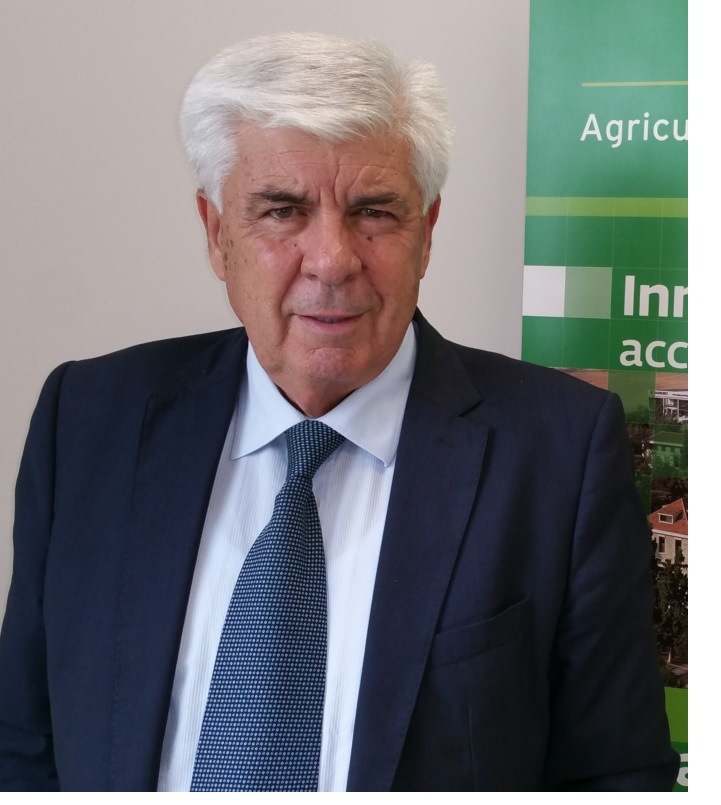 As of October 2016, Dr. Athanasios Tsaftaris assumed the position of Academic Dean of Graduate Studies at Perrotis College. As former Minister of Agricultural Development and Food (2012-2014) and Emeritus Professor at the Aristotle University of Thessaloniki, Dr. Tsaftaris was selected to provide the outstanding leadership required to move Perrotis College dynamically forward. A Professor of Genetics, Dr. Tsaftaris holds an MSc in Plant Competition in Breeding, a Ph.D. from the Aristotle University of Thessaloniki in the field of Genetics and Plant Breeding, and a second Ph.D. from North Carolina State University in Plant Molecular Biology and Biotechnology.
A member of the prestigious F1000 list, Dr. Tsaftaris has more than forty years of teaching experience in undergraduate and graduate programs and oversees M.Sc. and Ph.D. theses related to genetics, genomics, and biotechnology.
As an expert in his field, he has held a wide range of positions in research, education and technology worldwide. He established the Center for Research and Technology Hellas (CERTH) and served as the elected Director in CERTH Institute of Agrobiotechnology for 8 years. In 2014, he served as Minister of Rural Development and Food in the European Council of Agricultural Ministers. He is considered the most significant contributor to the establishment of NOESIS, the Science and Technology Museum of Thessaloniki, and from 1999 to 2000 served as Secretary General of Research and Technology for the Greek Government. In 2004 the President of the Hellenic Democracy awarded Dr. Tsaftaris national recognition with his appointment as a Commander of the Order of the Phoenix (Greece) for his outstanding service to Science. Contact: atsaftaris@afs.edu.gr.
Dean of Student Services
EVA VARELLAS KANELLIS (full time)
| | |
| --- | --- |
|   | An alum of both private and public institutions (Wake Forest U, U of Tennessee, and U of Iowa), Eva Varellas Kanellis has spent a long career as an educator and change agent: Director of the University of Minnesota School Without Walls (alternative school for troubled children), Curriculum Specialist at US government OEO Title VIII Dropout Prevention Program at Pine Ridge Reservation, University of Houston International Programs Director, Elderhostel programs in northern Greece, over thirty years as Director of the successful College Counseling and Special Programs Office at Anatolia College, and is now the Dean of Student Services at The American Farm School/Perrotis College. Eva recently received one of the eight "Counselors that Change Lives" Awards from the Colleges That Change Lives Board of Directors - the only international counselor honored in 2015. |
Faculty
KYRIAKI ZINOVIADOU-Chair of New Food Product & Business Development (full time)
Dr. Kiki Zinoviadou is an Assistant Professor at Perrotis College in the Food Science and Technology pathway. She earned her PhD from the Aristotle University of Thessaloniki as a fellow of the Ministry of Education, her MSc. in Product and Ingredient Functionality from Wageningen University in the Netherlands after being awarded a scholarship from NUFFIC (Netherlands Organisation for International Cooperation in Higher Education), and her BSc in Food Science from the Aristotle University of Thessaloniki. Her research interests include the development of delivery systems and biopolymer based antimicrobial packaging, as well as the understanding of the factors that determine the relationship between sensory perception, texture, microstructure, physicochemical properties and shelf-life of food systems. She has attended various seminars concerning the sensory evaluation of olive oil and is a member of the National Table Olive Taste Panel. Contact: kzinov@afs.edu.gr

Publications
ANASTASIOS KARAMANOS-Chair of Marketing for the Agrofood Sector (full time)
Dr. Anastasios Karamanos holds an MSc in Advanced Mechanical Engineering from Imperial College, London and a PhD in Management Studies from the Judge Business School, University of Cambridge. He teaches and researches entrepreneurship, innovation and strategy. His main area of interest is the external relationships of young firms and how these contribute to their innovation capabilities and competitive advantage. He has published work on the economic organization of biotechnology innovation clusters and the mobility of research scientists, on alliance networks and their effects on the innovation output of young firms, as well as on entreperneurial intentions. His work has appeared in the Journal of Management Studies, R&D Management, International Journal of Innovation and Regional Development, European Planning Studies, the Best Paper Proceedings of the Academy of Management Conference and Product Development Management Association Conference.

 

TRYFON ADAMIDIS (full time)
Dr. Tryfonas Adamidis is an associate professor at Perrotis College. He earned his PhD from Michigan State University, and his BSc in Agriculture with a concentration in Food Science from the Aristotle University of Thessaloniki. His research interests include food quality, microbiology, and product development. Contact: tadami@afs.edu.gr

Publications
ATHANASIOS GERTSIS (full time)
| | |
| --- | --- |
| | Dr. Athanasios Gertsis earned his PhD in Agronomy from Texas Tech University, and his BSc and MSc in Soils-Crop Physiology and Simulation Modelling from Mississippi State University. He holds Diplomas of Agricultural Technology from the Technological Educational Institution (TEI) of Thessaloniki and ASPAITE (certified educator), and has conducted post-doctoral research at the University of Thessaly. He participates in and coordinates major EU- and nationally-funded research, as well as joint research projects funded by agricultural sector businesses, and publishes findings widely in peer reviewed journals and other media. Current areas of research interest concentrate on innovative crop production systems in the soil-plant-atmosphere continuum, focusing on sustainable environmental management systems and materials used through Low Input Sustainable Agriculture (LISA) and Precision Agriculture concepts. Contact: agerts@afs.edu.gr |
CHRISTOS KISSOUDIS (full time)
| | |
| --- | --- |
| | Christos Kissoudis holds a BSc and an MSc, with a specialization in Plant Genetics and Breeding, from Aristotle University of Thessaloniki. During his MSc, he worked on biotechnological approaches to increase herbicide and stress tolerance in tobacco. He obtained his PhD from Wageningen University in the Netherlands investigating the genetic utilization of wild species and other genetic resources of tomato for achieving increased stress tolerance and pathogen resistance. He subsequently worked as a research and teaching assistant at the Plant Breeding department of Wageningen University. His research interests include crop improvement and the exploitation of their wild relatives and landraces with biotechnological and genomics-assisted plant breeding techniques, molecular plant physiology and pathology and the characterization and utilization of biotechnology-driven innovative agricultural practices. |
ATHANASIOS KRYSTALLIS (part time)
| | |
| --- | --- |
| | Dr. Krystallis is a Food Marketing Consultant with the Hellenic Research House S.A. and a Visiting Scholar in the Centre of Research on Customer Relationships in the Food Sector (MAPP, Aarhus University, Denmark), where he was until 2016 a Full Professor of Consumer Behavior. Until today, he has also served in various positions in Greek public tertiary and research institutions (i.e. Agricultural University of Athens, Hellenic Center for Marine Research, National Agricultural Research Foundation etc.). Dr. Krystallis' area of expertise is food marketing / consumer behavior (choice), and in particular the study of attitudes towards differentiated product quality and its impact on behavioral intention & choice. Specifically, Dr. Krystallis' expertise lies in customer behavior towards new product development and differentiation, namely products carrying sustainability (i.e. eco-labels), authenticity (i.e. designations of origin) and wellness (i.e. health claims) cues on their branding & positioning strategies. His expertise includes developing statistical models for analysis & forecasting of customer choice, & marketing strategies for customer loyalty. |
PANAGIOTIS KOTSIOS (part time)





 
Dr. Panagiotis Kotsios holds a Ph.D. in Industrial Economics from the University of Macedonia's Department of International and European Studies, an MSc in Management from the University of Teesside (UK), an MA in Systematic Philosophy from the Aristotle University of Thessaloniki and a BA in Economic and Business Policy from the University of Portsmouth (UK). His PhD thesis regarded barriers to entry met by new businesses in technologically dynamic European industrial sectors. He started working as a freelance economist on 2006. During the course of his profession he has worked as contractor for many private and public Greek organizations, such as the Ministry of Development, Aristotle University of Thessaloniki, University of Thessaly, University of Central Greece, the Technological Educational Institutes (TEI) of Thessaly, Lamia and Epirus and for many small businesses as a consultant. He is the author of four books. Contact: pkotsi@afs.edu.gr

Publications
Foteini Theodorakioglou (part time)

 

F. Theodorakioglou has 20+ years of professional experience in Marketing, Sales and Business Development. During her career, she held managerial and senior roles at leading FMCG companies in Greece. Her expertise includes marketing planning, branding, communication strategies, qualitative and quantitative market research, product portfolio, NPD, pricing policies, sales management, handling of key accounts and budgeting. She is also a PhD candidate in IMC at the University of Macedonia. Her research focuses on marketing strategy, branding, integrated marketing communications, media effects and consumer personality, with particular interest in simultaneous and sequential media usage and hard/soft-sell advertising techniques. She earned her MPhil in International Marketing from the University of Birmingham (UK), an MBA from the University of Birmingham (UK) and a B.A. in Economics from the Aristotle University (Thessaloniki).

 

 
George Boskou (part time)
Dr. Boskou George is Assistant Professor in Food Service Organization and Management at the Department of Nutrition-Dietetics at Harokopio University. He is a Chemist (Aristotle University of Thessaloniki) with a PhD in Applied Biological Sciences from (Ghent University, Belgium). He is an accredited inspector for food safety management systems and a certified trainer in food safety and hygiene. He is a founding member of the Interdisciplinary Society for Food Hygiene Assurance (DEDYT), and the Scientific Society of Olive Encyclopaedists (4E). He is an honorary member of the Chefs Club of Northern Greece "Olympios Zeus". He is also a member of the Department of Food of the Greek Chemical Society (EEX) and member of the European Federation of Food Science and Technology (EFFoST). His research and educational work is on food safety, quality management, food service, gastronomy and culinology.

 
THEODOROS KALLITSIS (part time)
| | |
| --- | --- |
|   | Theodoros Kallitsis holds a Ph.D. in Food Science / Food Microbiology and an M.Sc. in Food Science / Food Process – Engineering, both from the University of California at Davis and he is Veterinarian by training at the Aristotle University of Thessaloniki. He has been hired since 1998 as senior food scientist in Goody's S.A., a leading Food Corporation in Greece with important activities in various countries. He has been managing projects in new product development and new activities. His particular interests focus in food product development and problem solving in production and preservation of foods and he is trained as food communication expert. |
VASSILIKI PAPOTI (part time)

 
Dr. Vassiliki Papoti is a Chemistry lecturer. She holds a BSc in Chemistry from the Aristotle University of Thessaloniki, an MSc in Chemical Analysis and Quality Control and a PhD in Food Chemistry and Technology from the same university. Her teaching experience includes courses related to food analysis, instrumental food analysis and analytical chemistry. Her research experience includes optimization of processes for the production of functional food products, development of methodolgies for the exploitation of natural bioactive compounds, study of natural products composition and bioactivity, as well as quality control issues related to food contaminants. Her research interests concern the fields of olive and other natural products, antioxidants and other bioactive phytochemicals, functional foods, as well as method development for the appraisal of the bioactive potential of products. Contact: vpapot@afs.edu.gr

Publications
 
SOFIA LALOU (part time)
| | |
| --- | --- |
|   | Dr. Sofia Lalou is a Lecturer in Chemistry. She holds a B.Sc. in Chemistry (specialization in Food Chemistry) from the Aristotle University of Thessaloniki, an MSc and a PhD in Food Chemistry and Technology from the same university. She has teaching experience in courses related to food analysis, instrumental food analysis, analytical chemistry and oenology. Her research activity was awarded in 2014 by AUTH Research Committee with the Excellence Scholarship Award for PhD Candidates. She has worked in several food related projects with multidisciplinary teams in three different countries and she has actively participated in the supervision of undergraduate dissertations. Her research interests lie in the fields of fermented products, agro-industrial wastes valorization, immobilization of microorganisms (mainly yeast cells and probiotic bacteria), process optimization for generation of bioactive value-added ingredients, new food products development, quality control and sensory analysis of food products. Contact: slalou@afs.edu.gr |

GENERAL ADMINISTRATION
SOPHIA MIHALAKI (full time)
Sophia Mihalaki started her career in 1988 as a Certified Auditor with Ernst & Young in Athens. In 1993, she joined the Thessaloniki office of Deloitte and was soon promoted to Principal, Head of Office. She acquired extensive experience serving Greek and multinational entities. She also served as an auditor at the Hellenic Court of Auditors. In 2010 she joined the position of Chief Financial and Administrative Officer of the American Farm School and Perrotis College. Sophia holds a degree in Economics from the University of Macedonia, Thessaloniki and a post-graduate degree in European Economic Studies from the College of Europe, Bruges, Belgium. Contact: smihal@afs.edu.gr

 

 
EVANGELOS VERGOS (full time)
Dr. Evangelos Vergos is the Dean of the School of Professional Education and Director of the Educational Farm of the American Farm School. He earned his BSc degree in animal production from the Aristotle University of Thessaloniki and his Ph.D. in Biotechnology of Reproduction of farm animals from UCD Ireland. He has participated in a number of postgraduate seminars in Greece and abroad (Harvard Scholarship, MDP 2000) for self-development. As an international freshman College student and AFS graduate represented Greece to the FFA. He's an accredited instructor and has extensive extension experience in the fields ofanimal production management. Besides, he's teaching study abroad Perrotis College students. His main professional interests include contemporary agribusiness development and their impact to rural communities in Greece and abroad. Thus, he associates with agrofood companies, organizations and academic institutions to implement innovation, entrepreneurship and employment promotion programs in Greece, the Balkan and African countries. He's a member of the Agrotechnology committee of the Greek-American Chamber of Commerce, the review ad hoc committee of the Ministry of Education for higher professional education programs, the Organic Farming Cluster of the Federation of Industrialists of Northern Greece, the National Agricultural Network, and the European Society of Animal Production. Contact: vvergos@afs.edu.gr

 
FILIPPOS PAPADOPOULOS (full time)
| | |
| --- | --- |
|   | Dr. Filippos Papadopoulos is the Director of the Strategic Project Management Office of AFS.He earned his PhD from the London School of Economics, his M.A. in International Relations from the University of Sussex and a BSc in Economics from the London School of Economics. He has been active as a trainer and organizational consultant in the public and private sector and is currently consultant of the University of Macedonia for quality assurance in tertiary education. His research interests include: entrepreneurship and innovation, organizational and national culture, product development and consumer behavior in the food sector. |

DESPINA THEODORIDOU (full time)
Despina Theodoridou has been the Head of Institutional Human Resources since 2010. An HR generalist with expertise in the application of labor legislation, payroll and benefits, recruitment and selection, professional development and personnel assessment. Despina has attended numerous postgraduate courses in Adult Education and Management. She is a member of the Greek People Management Association and has also worked as Program Coordinator at the Lifelong Learning Department of the American Farm School. Previous appointment (1995-1997), Head of Production of the Galaxidi Marine Farm S.A. nursery. First degree in Zoology from the University of Wales, Aberystwyth and Masters in Aquaculture from Stirling University. Fluent in English and German. Contact: dtheod@afs.edu.gr

 
ANTONIS PETRAS (full time)
Antonis Petras is the Director of Buildings and Grounds. He has 30 years professional experience in building and construction projects and over 15 years professional experience in technical-financial studies supported by E.U. funded programs. Mr. Petras holds a D-group (scale from A to E) Certificate authorized by the Greek Ministry for public works on static and hydraulically studies and has served as a Technical Counselor for the Center for Research and Technology Hellas. He holds a degree from the Polytechnic Institute CLUJ-NAPOCA Romania in Civil and Factory Construction. Contact: apetras@afs.edu.gr

 
FOTINI MOESIADOU (full time)


 

Fotini Moesiadou is the Director of Institutional Recruitment of the American Farm School & Perrotis College. She holds an M.Sc. in International Finance & Investments from Brunel University, a B.A. (Hons) in Banking & Finance from Middlesex University and a Business Administration & Management degree from the American College of Thessaloniki. She is an accredited Insurance - Financial Consultant & Manager from the Bank of Greece and licenced by LUTC of the American College of Financial Services. Before assuming her current position, Fotini had a long career in Marketing, Sales, Insurance - Financial Consulting & Management in both London, UK and Greece, drawing valuable experiences from each sector, especially through her last role as Unit Manager at MetLife. As of September 2020 she is leading a dynamic team of admissions and recruitment professionals with the aim to recruit the best young talent on behalf of our schools and advance the institution's reputation in Greece and beyond. Contact: fotini@afs.edu.gr

 

 
MAGGIE OUTSIOS (full time)
Maggie Outsios is the Head of Advancement Administration and Corporate & Foundation Relations. She graduated with a Bachelor's degree in Communication from Michigan State University and with a Master's degree in Tourism Management from the University of Brighton, UK. Following several years as a music publicist in Los Angeles, she worked in student and program administration at Heriot-Watt University and the University of Edinburgh in Scotland. She now directs the administrative and financial reporting functions of the Office of Institutional Advancement as well as identifying, soliciting and reporting to individual and corporate foundations in the US, and is the administrator for USAID grants. Contact: moutsi@afs.edu.gr

 
STAFF
STAVROULA ANTONOPOULOU (full time)
Stavroula Antonopoulou is the Chief Administration Officer. She holds a B.Sc. and a Master of Education in Continuing Education from University of Macedonia in Thessaloniki. She is responsible for the financial, administrative and personnel services, along with maintaining day to day use of facilities, in order to meet legislative requirements and support operations. She is also experienced in adult education programs and managing and reporting of EU co-funded projects. Ms Antonopoulou has published extensively on her field of expertise and participated in many conferences and training courses. Contact: santon@afs.edu.gr

Publications

KATHERINE PITSELIS (full time)
| | |
| --- | --- |
| | Katherine Pitselis is the Outreach & Foundation Coordinator. She has lived and studied in Canada and the U.S. for many years. She is a graduate of McGill University with degrees in Industrial Relations and Social Sciences. Katherine received her English teaching diploma from the University of Michigan. She has a wide range of experience teaching English and preparing students for various level Cambridge and Michigan language exams. Her career experience includes having worked at Mandoulides Private Schools and Perrotis College/American Farm School, where she taught advanced level English to students and trained them to enter various undergraduate degree programs. Her activities also include the language improvement of professionals in various fields (e.g. Administration, economics, accounting) as well as English translation of professional texts. Contact: apitsel@afs.edu.gr |
LEIGHANNE PENNA (full time)
| | |
| --- | --- |
|   | Leighanne Penna graduated with a Bachelor's degree in Classical Studies (2002) and a Master's degree in Higher Education (2006) from the University of Massachusetts, Amherst. From 2003-2006, she worked at the University of Massachusetts' Residence Life Department. Immediately after her masters, she started her PhD Program in Higher Education with a specialty in K-12 Curriculum and Instruction at the University of Denver. During her doctoral coursework, she held various graduate positions in the following departments, including the Teacher Education Program, Educational Administration Program, and the Multicultural Center. She also served as the Vice President and afterwards President for the Graduate Student Association, representing 6,000 graduate students on campus. For four summers, she worked for Duke University's Talent Identification Program coordinating academic summer programs for gifted 13-18 year olds. In 2009, she moved to Thessaloniki to direct Northeastern University's pre-freshmen program at the American College of Thessaloniki and afterwards worked at Anatolia College in the US College Counseling Office. September 2015, she started working at the American Farm School & Perrotis College as the Director of Student Life. Contact: lpenna@afs.edu.gr |
TΕRINΑ KARAKASIDOU (full time)
| | |
| --- | --- |
| | Terina Karakasidou is the Perrotis College Registrar. She obtained her BSc in Business Administration from theAmerican College of Thessaloniki (ACT) and her MSc in Marketing Management from the University of Surrey, UK. Responsibilities: Registering incoming students; Evaluating transfer credit; Approving the adding and dropping of modules; Maintaining and issuing records of student grades; Maintaining records on student Declarations of Courses and Pathways; Monitoring student progress toward a degree; Issuing official grade transcripts and degrees; Processing applications by students for withdrawal from the College program. Contact: tkarak@afs.edu.gr |
PANTELIS HANTZARAS (full time)
Pantelis Hantzaras is the Residence Life Coordinator. He received his Bachelor degree from Perrotis College, with a major in International Business, after completing his secondary education at the American Farm School. In both educational programs, he received the prestigious Bruce and Tad Lansdale Leadership Award. He has undertaken training in Student Affairs from the University of Massachusetts-Amherst, Colorado State University and National Kapodistrian University. As a resident student on the campus of the American Farm School and Perrotis College throughout his education, Pantelis has developed a strong multicultural perspective. He is also an experienced graphic designer. Contact: phantz@afs.edu.gr

 
ATHANASIOS BIZBIROULAS (full time)
Athanasios Bizmpiroulas is the Administrative Assistant. He received his Bachelor Degree in International Business from Perrotis College. He is responsible for assisting the Administration Officer and provides administrative support to college staff and faculty, ensuring the efficient operation of the College. His research interests include Food Exports and the Development of Export Activities. He has presented his research work at various International Conferences, and has published in peer reviewed journals. Contact: abizbi@afs.edu.gr.

 
DAMIANA KOUTSOMIHA (full time)
| | |
| --- | --- |
| | Damiana Koutsomiha is the Head Librarian of Dimitris & Aliki Perrotis Library. She holds a BSc on Library and Information Systems and a MScEcon on Management of Library and Information Services from the University of Aberystwyth, Wales. She promotes library services to the community through education, outreach and participation in professional conferences, trainings, publications and research groups. Her research interests cover a range of issues such as digital literacies, evaluation of Web resources, knowledge management, library instruction. Over the years her vision and mission as a librarian has taken concrete form: to strengthen the learning process of students and the general public and provide the means and foundations through teaching for the development of critical thinking in the chaos of information and the fundamental value of lifelong learning. When not teaching she likes to return to her first favorite job as librarian: identifying information and reaching where her users cannot and ultimately provide them with the necessary tools to reach the desired information on their own. Contact: dkouts@afs.edu.gr |
IRO SOTIRIADOU (full time)
Iro Sotiriadou is the Perrotis College liaison librarian working at the "Dimitris & Aliki Perrotis" Central Library and at the "Information & Media Hub" Satellite Library located at the Aliki Perroti Educational Center at Perrotis College. She is responsible for managing both Libraries' electronic resources. She holds a BA in English Language and Literature and an MA in Translation Studies both from the Aristotle University of Thessaloniki, as well as a BSc in Library Science and Information Systems from the Alexander Technological Educational Institute of Thessaloniki. She focuses on serving library users and promoting library services through the development of electronic resources (online Library Guides, Library's website development, etc.) and digital curation of Library's digital assets (digital Archives, Institutional Repository, etc.), as well as provides research assistance and guidance to the Perrotis College students and faculty. During the years working as a librarian, her mission and vision has shifted in turning the Library's patrons from passive and dependent users to active and independent users and learners, by promoting metacognitive strategies in library instruction. Contact: isotir@afs.edu.gr

 
GREGORIOS SOUGARIS (full time)
| | |
| --- | --- |
| | Gregorios Sougaris holds a BSc (Hons) Degree in Agriculture Business Management from University of Essex, an MSc in Food Industry Management and Marketing from the University of London (Imperial College), and an Executive MBA from the International Hellenic University. He is also a Perrotis College graduate, the first graduating class of 1998. He has worked at the Marketing Department of Allatini Group SA, and since 2006 has been coordinating the Admissions procedure and Recruitment activities of Perrotis College. Today is the Recruitment Coordinator at the Enrolment Department, implementing promotional activities for Perrotis College. Contact: gsouga@afs.edu.gr |
EVA KALAITZIDOU (full time)
| | |
| --- | --- |
| | Eva Kalaitzidou is a Recruitment Officer, a role that involves recruiting new students for the Bachelor Degree Programs of Perrotis College. She herself obtained a Bachelor Degree in International Business from Perrotis College, where upon graduation she received the salutatorian award. Being a graduate of our school she is passionate about the institution and all it has to offer. Her daily responsibilities include organizing presentations and information sessions for prospective students covering a variety of topics including academics, campus life as well as the admissions process. Her research interests include Alternative Tourism and Food Marketing and she has presented her research work at conferences in Greece. Contact: ekalai@afs.edu.gr. |
HAROULA KATZANI (full time)
| | |
| --- | --- |
| | Haroula Katzani is the Director of Finance. She is an Economist with a BSc in Business Economic Administration from the Department of Law & Economics of the Aristotle University of Thessaloniki. She is responsible for overseeing all the College's financial activities in order to ensure its strong financial structure and economic development. Her career experience includes having worked at the Financial Department of the American Farm School since 1994. In her current position she is responsible for preparing the annual operating and capital budget, monitoring the cash flow on daily basis, analyzing financial data into key performance metrics as well as overseeing the annual audit & any special audits. She also manages incoming gifts and monitors financial aspects of all privately and state-funded projects. Contact: hkatza@afs.edu.gr |
ELENI KANTYLTZOGLOU (full time)
| | |
| --- | --- |
| | Eleni Kantyltzoglou is the Coordinator of Outreach & Development in the Study Abroad Department of Perrotis College. She was born and raised in New York before returning to her home country of Greece at the age of 15. She received her Bachelor's degree from Flagler College, USA in Sport Management and Business Administration. Eleni has extensive experience in the tourism industry in Greece, organizing and leading trips for businesses, travelers, and professional groups. Eleni has also successfully coordinated and managed faculty-led groups from large-scale American universities in Greece and abroad. Her love of education and travel motivated her transition to higher education and study abroad. At Perrotis, Eleni directs the promotion, development, and coordination of the study abroad programs. Contact: ekanty@afs.edu.gr |
HELEN YARENIS (full time)
Helen Yarenis is the Study Abroad Coordinator of Marketing and Communications at Perrotis College. Born and raised in New Jersey, she received her BA in Psychology from Boston University, USA and CELTA from Center for English Studies in New York. After teaching ESL in Greece for two years, Helen returned to the US to work in the Admissions Department of Tufts University School of Dental Medicine. She moved back to Greece in 2004, teaching ESL, advising students seeking post-graduate studies and working as an examiner for several language certification bodies. At Perrotis College, Helen is responsible for creating marketing content and coordinating communication strategies for study abroad programs. Contact: hyaren@afs.edu.gr